Annotate and take notes in the Reader screen on Papers 3 for Windows
The Reader screen offers you to highlight, underline and strikethrough text in a PDF and add sticky notes to the PDF.
---
Annotations
To turn on the continuos annotations mode (highlight/underline/strikethrough) click on one of the annotation tools.
After enabling the annotation mode any text highlighted with your cursor becomes annotated. To exit the continuous annotation mode click on the currently highlighted annotation tool again.
---
Sticky notes
To create a sticky note, click on the sticky note icon so that it is highlighted blue and click anywhere on the PDF to create a sticky note.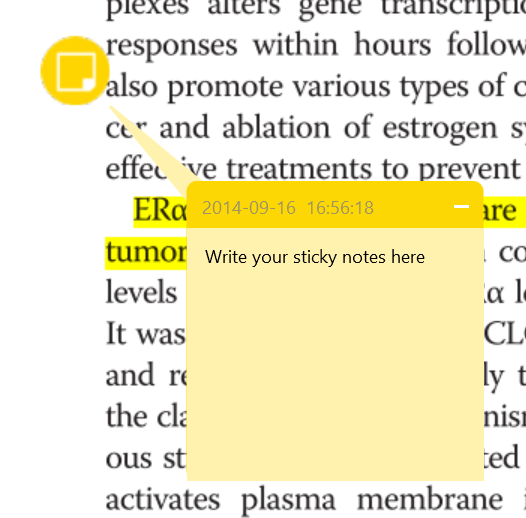 ---
Move sticky notes
If you want to change the place of a sticky note, you can simply drag it on the PDF to a different location.
Delete annotations/notes
If you want to delete a sticky note or an annotation, click on the sticky note/annotation to select it, right-click and select Delete.
---
View your annotations in the Notes tab
Your annotations and sticky notes appear in the Inspector Notes tab. If you click on an annotation in the Notes tab, you are taken to the annotation location on the PDF.
---
Add general notes in the Notes tab
The top part of the Notes tab allows you to write general notes about a publication. This section is also useful, in case the publication doesn't contain a PDF.